DRAMA-FREE HOME APPLIANCES
Gorenje Simplicity Collection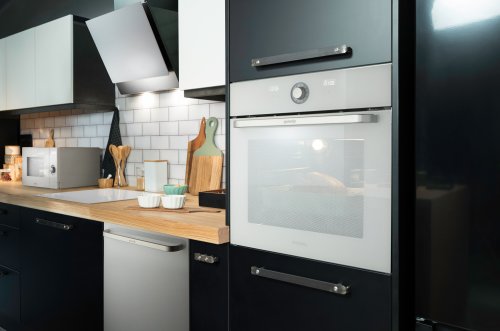 Life can sometimes get dramatic. Thankfully, at least Gorenje Simplicity home appliances are completely drama-free with sleek and clean looks, a flawless user experience, and amazing value for money:
Adaptive technology that recognizes the user's needs or habits
Automatic programmes deliver perfect results everytime
Intuitive one-step controls ensure ease of use for seasoned users as well as newcomers
Available in black or white, the classic colours that never go out of style.
Products
Products
Freestanding refrigerators
Features
Features
No more drama with spoiled food
This smart system was developed to maintain a constant temperature in the refrigerator regardless of how often you open the door. The refrigerator continuously monitors the way you use it and manages the temperature to prevent any increase in temperature and ensure your food stays fresh.
No more drama with your favourite recipes
The oven will memorize your temperature setting for each preset program and suggest the most recent or the most frequently used setting the next time you use it.
No more drama with positioning the pots
Within the first 10 seconds after the hob is switched on, it will automatically detect the pot position and activate just the right cooking zone, single or connected, depending on the pot size. The function can also be manually activated at any time during the cooking process.
No more drama with turning on the light
The Gorenje Simplicity hood's innovative AdaptLight sensor feature will automatically detect when someone is standing in front of the hob to start cooking and turn on the light for you.
No more drama with complicated settings
A combination of touch control and central illuminated knob offers the user a truly simplified experience with automatic pre-sets of the programs and functions, automatic operations, and easier manual adjustments.
No more drama with super-sized pots
The induction hob with two connecting zones simplifies cooking in large-sized pots. Two separate cooking zones are bridged to form one with just a simple touch. Perfect for preparing bigger pieces of food and sides simultaneously.
---
Red dot award for Simplicity induction hobs
The new Gorenje Simplicity induction hobs were awarded the prestigious Red dot design award. With innovative functions such as automatic pan recognition and the option to bridge two adjacent cooking zones, they offer even more flexibility and simplicity of use. Designed to guide users in a meaningful way, provide suggestions and choose the modes needed during cooking, the Simplicity hob meets even the most ambitious user demands, while remaining reasonably priced.